Taking a small stand at a big exhibition in Las Vegas may have been the decision of the year by inveterate innovators Sensor Technology of Banbury, Oxon.
Visitors to Heli-Expo in March 2013, a show focused on commercial helicopter operators, showed so much interest in Sensor Technology's intelligent wireless helicopter load sensor that sales manager Mark Ingham expects to double turnover comfortably within the year.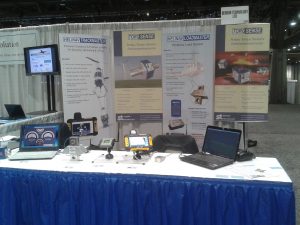 The HeliNav LoadMaster is a cargo hook for carrying underslung loads that incorporates a strain gauge based stainless steel tension type sensor. This has the capability of wirelessly transmitting dynamic load data (via 2.4 GHz) to a display panel in the helicopter's cockpit or to a nearby handheld readout, typically used by an operations manager. As well as providing real time information, the data can be stored and analysed for performance and billing purposes.
"We've been developing LoadMaster for a couple of years," says Mark. "Like all ground breaking new products, initial sales were a bit slow. People could see the advantages of LoadMaster, but it takes them some time to decide to try something so revolutionary."
"This year we thought we were beginning to get some traction in the market. Then at Heli-Expo it was like flood gates opening. I think this was partly due to the fact that people had time to think about LoadMaster and partly because the US economy is ready to invest and expand again."
In fact Mark had hoped to have a few days break after the show, but such was the interest that he ended up visiting potential users and distributors.
"Interest from distributors is always welcome. They are hard-headed business people who don't like their cash tied up in shelves full of products they can't sell.
The only reason they ever want a product is because they can see a vibrant and immediate demand for it."
America represents a key market for anybody involved in the helicopter industry, as there are more craft flying per head of population than anywhere else in the world. Because it is such a vast land there are many remote places served by helicopter; its oil and gas drilling industry is large; logging communities abound; land surveyors, environmental workers and many other sectors use helicopters far more than their European counterparts.
Sensor Technology is particularly interested in crop dusting operators. This is a big industry in the US, so Sensor Technology has developed GPS and mapping capabilities for LoadMaster that can optimise the spraying of fertilisers, weed killers etc.
"I have already lined up a return trip to the States, and suspect it won't be the last one this year," says Mark. "It is very gratifying that the ground work we have put in over the last few years is beginning to pay dividends. And I am sure our backroom boffins will have more innovations to make sure the market interest is sustained."