New low capacity models of Sensor Technology's non-contact torque sensors offer accurate measurement down to 200mNm (0.2Nm), for applications such as precision and high speed robots, medical devices, protheses and implants, small drives and micro motors.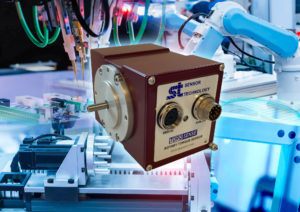 The new TorqSense SGR 510/520 torque sensors cover capacities from 0.2Nm to 1Nm, making the full range 0.2Nm to 13,000Nm. The bigger units in the SGR family are designed for use in machine tools, production and processing plant, heavy duty pumps and similar large scale installations.
Based on a full four-element strain gauge bridge design, the SGR sensors have the ability to accurately measure and record sudden spikes in torque load. This ability is becoming increasingly important in automated machinery, integrated systems, test rigs and continuously monitored plant.
"Torque spikes can have an immediate effect on operations, or may indicate the beginnings of a problem," explains Mark Ingham, Sensor Technology's Sales Director. "The SGRs are designed to accurately record all torque data from any type of system, big or small, simple or complex, yet be robust enough for use in virtually any environment."
The TorqSense SGR measures the torque 4000 time per second and uses high performance signal conditioning to provide a corruption-free, high bandwidth torque monitoring solution. This is further enhanced by 250% overrange and 400% overload capabilities, elimination of side and end load errors and real time temperature compensation.
The non-contact signal transmission means the sensor exerts no load on the shaft it is monitoring, while maintenance-heavy slip rings have been designed out.
Three analog output channels on the 511 mean the SGR can measure real-time speed and power alongside the torque monitoring. A third output is dedicated to self-diagnostics and/or status functions. An Ethernet gateway module can also be fitted to the unit.
As well as analog outputs, TorqSense SGR 520/521 is also fitted with digital outputs for interfacing with state of the art instrumentation and laptops. Options include RS232, CANbus and USB. A digital input is provided so that the 520/521 can be set up directly from a PC running specialist configuration software such as Sensor Technology's TorqView or LabView.
"Using the USB output, it is possible to connect up to 10 SGR520/521s into one fully integrated system," comments Mark, "allowing even the most complex installations to be comprehensively monitored from a single workstation.
"Torque measurement is playing an increasingly important role in modern plant and machinery monitoring and control, enabling steady increases in efficiency, productivity, availability and accuracy – all key drivers in the advance towards tomorrow's technology."