HeliNav LoadMaster, the intelligent wireless helicopter load sensor has been upgraded with a string of new capabilities.
Inclinometers have been added so that it can be used with three-point fixing for large loads; a new receiver wirelessly collects live load data for analysis, interpretation and reporting, and a new display gives real-time information on operational variables to aid calculation of flight and operational profiles.
Looking at the first new feature, Mark Ingham of manufacturer Sensor Technology Ltd in Banbury, UK explains: "Heavy lift helicopters have a number of load points on their underside and it is usual to carry larger loads by using three of them. This spreads the weight across the aircraft, avoiding a single point of high stress and stabilises both load and helicopter in flight."
"With the new HeliNav LoadMaster, pilots can monitor the strain in each individual cable in case the load is not distributed evenly, or if flight movements create asymmetric stresses."
The HeliNav LoadMaster sensor is autonomous, using a wireless communications' link to its own display and computer in the cockpit. This means it does not require additional certification of the electrical systems and can be swapped from one aircraft to another in seconds.
HeliNav LoadMaster can be used in conjunction with other electronic systems, such as navigation and tracking, so will automatically produce comprehensive operational performance reports.
"Put simply HeliNav LoadMaster takes the guesswork out of commercial operations. You get an accurate record, against which you can charge exactly," says Mark.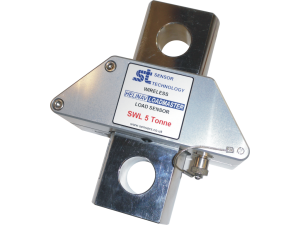 The new receiver is rugged and robust while compact (133mm x 67mm x 43.5mm), so is suitable for the confined and demanding conditions often encountered in commercial helicopter operations. It requires only a DC power connection, while an SMA connector allows the fitment of an external antenna.
In operation, the receiver works on the licence-free 2.4GHz band and outputs a stream of data from the load sensor including serial number, full scale, load, temperature, RSSI (received signal strength indicator) and battery voltage. This data is updated 10 times every second. Advanced features within the receiver which ensure ease of use include data whitening and forward error correction. The output can be provided as RS232, RS422 or USB, and can be displayed on-screen or fed to a datalogger.
The new display screen – called HeliNav TrackMaster – is particularly useful in operations such as crop spraying, spreading and multi-lift materials transfer. It provides pilots with easy-to-follow and accurate line guidance, so that the whole field of operation is covered in an optimised flightpath. It also automatically records all data for post-flight performance analysis to ensure accurate billing, maintenance scheduling, etc.
The software comes pre-installed on a 7″ rugged tablet computer, and integrates into existing GPS and spray control set-ups for immediate use. The computer is sunlight readable, and conforms to MIL-STD-810F and IP67 standards. Users import maps into the computer and the screen is easily customisable to individual preferences.
The system is highly intelligent and so can automatically manage details of the operation. For instance, if crop spraying in an irregularly shaped field with a stream, pond and building that must not be sprayed, the HeliNav TrackMaster will turn the spray on and off to avoid the non-spray areas and also to avoid spraying beyond the field boundaries. Alternatively, if the task involves travelling between a number of set points, say for collecting/depositing loads, these can be indentified on-screen and flight-paths optimised for efficiency.
HeliNav TrackMaster interfaces with the Load Sensor from the HeliNav LoadMaster family, which enables tracking of the load and distance carried. This data can also be included on the report.