Distributors around the world are signing up to represent an innovative British sensor company as it seeks to expand its export sales and introduce a radical new technology to the helicopter cargo sector.
Sensor Technology Ltd of Banbury has always been export-orientated and a key part of its global strategy has been to constantly review its geographic sales penetration and the performance of existing distributors.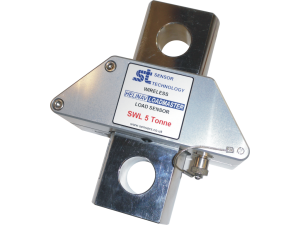 Marketing Manager Tony Ingham explains: "Our products tend to be a bit technical, so need enthusiastic distributors who will make the effort to fully appreciate the underlying technology and to search out appropriate applications. The type of distributor that will stock a few units and wait for sales opportunities to present themselves will not succeed with our products.
"At any point in time we have the whole world covered by distributors. But if we drill down we often see that some distributors cannot cover their whole region, so we look for new distributors in the 'unserviced' areas. It is a strategy that has worked well for many years and which allows us build our distribution network in an ordered way."
Sensor Technology has two main ranges of product, torque sensors that are applicable anywhere there is a rotating shaft, and helicopter cargo load sensors. Perhaps surprisingly they share a common technology, the use of radio frequency data transfer to provide a wireless operation.
"The helicopter world is fairly new to us, so a lot of our work is pioneering; TorqSense is much more established, but we find the two support each other remarkably well."
For instance they went to Heli-Expo in Las Vagas earlier this year and signed up several North American distributors.
"We were particularly delighted to win Yellowhead, the leading helicopter services company in Canada. And this has also lead to new channels for TorqSense."
Sensor Technology was also able to find a distributor for Columbia, which will form a bridgehead for a renewed thrust in South America. Ingham describes South America as a rapidly emerging continent with many regions catching up on the trail being blazed by Brazil.
And the Hanover Fair in Germany was equally productive. "It's an industrial show, so we went expecting to focus on torque and machine design," says Ingham. "But we found a lot of interest from Eastern and Central Europe for adapting the load sensor for use on cranes – when you think about it there is a lot of high rise construction going on there!"
Next stops for the Sensor Technology show team are China and India. They already have representation in both regions, but recognise that their products are probably too expensive for the local markets.
"The natural thought is to strip down the products and offer a cut-down, cut-price version. But that would destroy our competitive edge of innovation, so we are focussing on finding enthusiastic distributors with strong links into sectors we have identified as ahead of the curve for our offerings."
Ingham concludes by saying that the UK is not a commodity manufacturer. Its best products are always cutting edge, and that means we have to go out and sing our praises to the world.