A new receiver has been launched for HeliNav LoadMaster, the helicopter-qualified wireless load sensor made by Sensor Technology Ltd.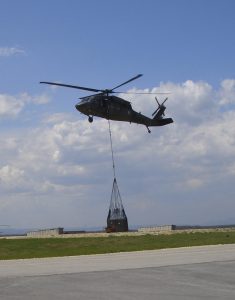 It provides users with the simplest way to receive load sensor data for analysis, interpretation and creation of management and customer reports. It is ruggedly built and enclosed in a robust aluminium casing (measuring a compact 133mm x 67mm x 43.5mm) so that it can be used with confidence even in the harsh environments often encountered in commercial helicopter operations.
The receiver is almost autonomous, requiring only a DC power connection before it is ready for use. An SMA connector allows the fitment of an external antenna. This makes for easy installation, and likewise start-up requires only minimal time while use is so completely straightforward that training is not required.
In operation the receiver outputs a stream of data from the load sensor, including serial number, full scale, load, temperature, RSSI (received signal strength indicator) and battery voltage. This data is constantly updated at the rate of 10 times every second for as long as the load sensor is in range (up to 30m).
Advanced features within the receiver ensure its ease of use and robustness, including data whitening and forward error correction.
The output can be provided as RS232, RS422, USB. The interface is suitable for applications where no user interaction is needed and data is fed into a datalogger, remote display or other appropriate device. The receiver works on the license-free 2.4GHz band.