The full range of sizes for Sensor Technology's RWT310/320 series of TorqSense Rotary Torque Sensors is now available, following completion of the development project by the Oxon based company.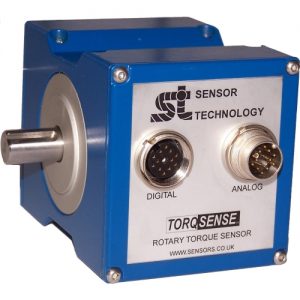 Launched in the Spring with the most popular sizes made available first, TorqSense RWT310/320 provides non-contact measurement of torques, speed, power and position of rotating shafts, such a machine drives. It uses tiny piezo-ceramic combs fixed to the shaft, which distort to measure the torque. The data signals are displayed via a radio frequency coupling rather than by conventional clumsy slip rings. Because piezo technology requires so little power, this is also be supplied via the RF coupling.
There are now with three different body sizes and six different shaft sizes in the range, from 1Nm to 10,000Nm. The smallest unit may be used to measure say the precise dosing of fine chemicals and pharmaceuticals; the largest on full scale test rigs used in the aerospace industries and other heavy duty industrial applications.
"The RWT310/320 series is the culmination of a decade of development work," says Tony Ingham of Sensor Technology. "Our earlier series are still available, but the integral control electronics of the new units is opening up non-contact techniques to virtually also sectors of industry and science."
The RWT310 provides analogue outputs and the RWT320 both analogue and digital outputs, which are directly compatible with PC Interfaces such as serial and USB, and are user programmable for signal levels. Other innovative features include built-in peak torque sampling, storage and torque averaging, and a self-diagnostics test package. Both the RWT310 and RWT320 can operate from a wide range of supply voltages.
Complementing the hardware, Sensor Technology is also introducing TorqView2, Virtual Instrumentation Display software that displays the sensors' output on a PC in a number of different, user-friendly, graphical formats.
"Our earlier models were designed to be robust and simple, both in use and for manufacture," comments Ingham. "With the concept now proven in the real world of factory machines, process plant and commercial laboratories, we have moved on to develop the RWT310/320 Series, in which we have integrated the electronics and the pickup into a single unit and designed everything for serial manufacture."