Hydrocarbon drilling accuracy has been increased tenfold by using adapted advanced aerospace guidance systems. And an equally innovative torque sensor ensures efficiency during the equipment's regular programmed maintenance.
Gyrodata's high accuracy surveys assure precise wellbore targeting and reservoir delineation, and prevent costly problems such as missed objectives and wellbore collisions in multiwell structures. As the world's leading supplier of precision wellbore survey services to the energy, mining, environmental and construction industries, the company maintains state of the art manufacturing and test facilities in Houston, Aberdeen and Barrow-in-Furness. Texas serves the Americas and the UK looks after the rest of the world.
"We have about 60 Well-Guide RSS (rotary steerable systems) sets here in Barrow and dispatch them to oil field operations far and near, along with our specialist engineers," explains Ian Carruthers of Gyrodata. "A typical job lasts about two weeks, and when the kit comes back there is an intensive two weeks completely rebuilding it."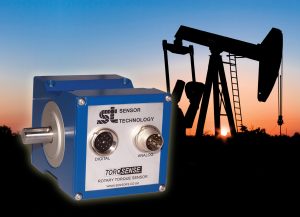 A key operation in the overhaul process is torque testing the rotating parts using a specialist rig, at the heart of which is a TorqSense from Sensor Technology in Banbury. Any variation from tight torque tolerance specifications suggest that there might be something needing attention, perhaps a sticking seal or a failing bearing.
"Not even the smallest of faults is allowed. Failure halfway through a complex rotary steerable or surveying operation in a remote oil field would lead to enormous on-costs – so we don't send out equipment unless we are 110 percent certain of its performance."
Well-Guide RSS is the industry's first and only fully automated rotary steerable drilling system with 3D automated control near the bit. The system can drill highly accurate trajectories using pre-programmed courses with full downhole closed-loop control that allows real time trim steering during the drilling operation.
This technology makes survey and extraction drilling far more predictable and reliable, pulling huge amounts of time and cost out of the overall operation.
"Similarly, we have to be very efficient at overhauling the returned equipment," explains Ian. "Often it is due out again fairly promptly, plus there is a steady stream of urgent jobs that we have to rise to in order to maintain our service commitment to client companies."
"TorqSense helps with this because it is a plug and play non-contact technology that saves the need to faff around setting up slip rings. Basically we load the Well-Guide into the rig, switch on and run a suite of tests at different speeds. The data is collected on the fly and fed straight into a computer for immediate analysis."
At its heart TorqSense uses tiny piezo-ceramic combs, known as Surface Acoustic Wave (SAW) devices fixed to the shaft of the equipment under test. These distort in proportion to the instantaneous torque level in the shaft as it rotates. The distortion creates RF data signals that are transmitted via a radio frequency coupling rather than by slip rings or other mechanical contact.
This data signal in turn is transmitted to the control unit, from which it can be read on an alpha-numeric display or, as Gyrodata do, transferred to a PC for analysis and profile building using a customised version of Sensor Technology's TorqView software programme.
TorqSense comes in a wide range of sizes, the larger being used in many applications at the heavy duty end of industry, while the smaller ones are found in applications such as fine chemical dosing and lab-based research. In all cases the reliability of collecting high speed real-time digital torque data and TorqView's instant display makes analysis and data logging simple, fast and straightforward.
Gyrodata originally trialled TorqSense in its UK plant and was so impressed that it bought more and encouraged its American engineering colleagues in Houston, Texas to adopt the technology too.
Ian says TorqSense fits well with the Gyrodata ethos: "Our role is to make life simpler for our customers out in the field. To do this we have to make life simpler for ourselves – and TorqSense fits this bill superbly.
"We are expanding steadily and when we moved to new larger premises recently the TorqSense rig proved completely mobile and instantly reliable."